The electrically assisted bicycle is definitely the ideal way to get around town! It allows you to combine physical activity, saving time and protecting the planet.
When you have the right clothes, it's a real pleasure! Absorbent first layer, two-way zips to allow pedalling, ventilation under the arms...
To stay up to date, we have chosen to try out some recent models. Just for fun. Today, the latest model of the brand "the MAD bike": the Sport +. Third model of their range (after the Urban and the Sport), it concretizes a logical evolution in term of performance and aesthetic. Here we go!
The MAD bike is a French brand launched by two childhood friends Guillaume and Charles.
Passionate about bicycles - they first managed a website selling vintage fixie bikes - they embarked on the electric bike adventure to introduce a strong aesthetic and involve more French know-how in the manufacturing chain.
The bikes are designed and assembled in France, at the Manufacture du Cycle. This guarantees rigorous and efficient quality controls at each stage of production. And the approval of each part - based on European standards - is carried out by French laboratories.
Their marketing system is also very original. To guarantee competitive prices, they sell directly on the internet. It's easy to try: you can make an appointment with ambassadors throughout the country (identified on the website). They will answer all your questions!
The DNA and the model of the brand, quite similar to ours, really appealed to us!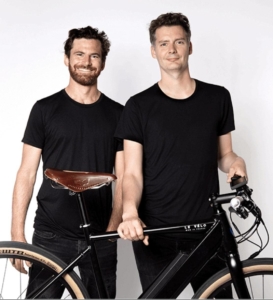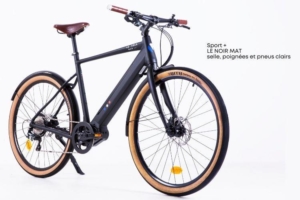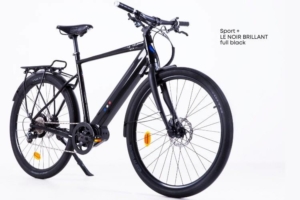 characteristics of the Sport +
pre-order price 2290 € (delivery June 21)
19.5 kg
aluminium frame and handlebars 
derailleur, cassette (10 speeds) and Shimano Tiagra shifters
Shimano hydraulic brakes
27.5 inch wheels
Mach1 rim, WTB horizon tyres
aluminium sludge guard
LCD display with 5 levels of assistance
the main development is the integration of the battery into the frame
it's much more aesthetic,

provides better protection against impact

increases

 rigidity
this 375 watt-hour battery
recharges to 80% in 1.5 hours (and 100% in 3 hours)
leads to a range of 75 km for an 80 kg cyclist with level 5 assistance
central torque sensor motor (power 80 NM)
at the aesthetic level, two finishes coexist
the BLACK MATT has light-coloured tyres, matching the Brooks leather seat and grips
The SHINING BLACK offers the same accessories in black
Two sizes: 50 ( 1.80 m)
We rode around Paris at the end of January, wearing the shiny black model and equipped with a prototype of our Salkantay parka.
the vintage and high end connotation of the leather handles and saddle. Very comfortable.
assistance that responds quickly and smoothly, thanks to the pedal motor
complete equipment (mudguard, kickstand, 10 gears)
non-discriminatory weight
good battery life
DNA and assembly Made in France